Discover the Life Cost in Turkey in US Dollars $ for housing, food, transportation, utilities, and more. This in-depth guide provides 2023 costs in US Dollars for living in cities like Istanbul as well as tips for saving money as an expat or traveler. Learn how much items like rent, groceries, dining out, and recreation activities cost on a monthly basis to better understand the true cost of living in Turkey.
Turkey has become a major hotspot for tourists attracted to the awesome history, food, and scenery. But what's the true cost of things in Turkey? This deep analysis examines average prices in Turkey in US Dollars as of 2023 to understand typical expenses for food, housing, transportation, and more.
Housing Costs Depend on Location
Housing is likely most people's biggest expense. Rent for a small 1-bedroom apartment in a major city center like Istanbul averages around $800 per month. Pads in hip neighborhoods of Istanbul like Kadıköy or Beşiktaş often go over $1,200 monthly. You can browse rentals on sites like Sahibinden.
In secondary cities like Izmir or Ankara, prices are lower at around $430 for a single bedroom. Sharing an apartment with roommates reduces costs a lot. You can find listings on Craigslist Turkey.
Buying a property also varies widely depending on location. In central Istanbul, prices average around $2,420 per square meter, while in other cities rates drop to around $1,330 per square meter. Expect lower prices outside major metros. Sahibinden also lists homes for sale.
Grocery and Market Costs
Food prices at Turkish supermarkets, bazaars, and grocery stores are pretty reasonable, especially for seasonal local produce. Meat, fancy dairy, imported stuff, and packaged goods cost more.
Loaf of bread: $0.49
Dozen eggs: $1.86
Chicken breast (1 kg): $4.51
Apples (1 kg): $0.94
You can order groceries online from apps like Getir and Yemeksepeti. Open-air markets selling fruits, veggies, spices, cheeses, and more are common for finding deals.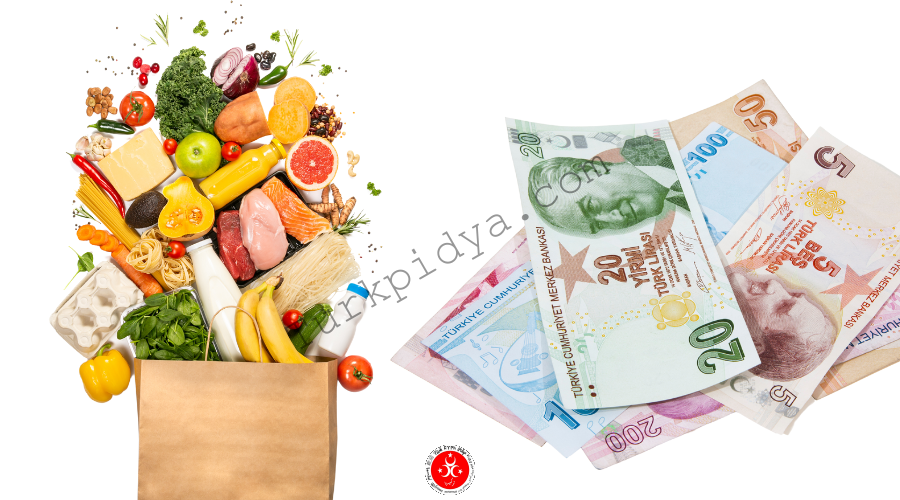 Dining Out Options
Eating at restaurants in Turkey offers good value across the board. A cheap meal at a casual spot averages around $6.50 per person. Two people can dine at a mid-range restaurant with mains, and soft drinks for around $20.
Fast food like a McDonald's combo is $6. Fancy dining with specialty beverages can top $100 per person.
Istanbul has thousands of eateries from street food to high-end joints. Costs in other cities are a bit lower.
Transportation Expenses
Public transportation like metros, buses, and trams in Turkey's big cities is affordable at around $0.85 for a single ticket. Monthly passes offer commuting savings at about $20. You can load Istanbul travel cards online.
Intercity buses and high-speed rail provide a cheap option between cities. Book tickets on ucuzabilet.
Taxis start at around $0.60 for the first kilometer then $0.35 per kilometer after. Gasoline is kind of expensive at over $1.30 per liter.
Utility Costs
Basic utilities like electricity, heating, water, and garbage removal for a 85 square meter (915 sq ft) apartment run around $60 per month. You can pay bills online through provider sites.
High-speed internet starts around $9 depending on speed and data limits. Unlimited data cell phone plans with calls and at least 10 GB of data are approximately $7. Plans are available online from Turkcell, Vodafone, etc.
Income and Financing
Average monthly after-tax salary is about $550 but varies a lot across industries. Jobs in tech, finance, healthcare, and engineering pay more than tourism, retail, and labor gigs. Look for openings on sites like Kariyer.net.
Mortgage rates fluctuate based on economic factors like inflation. Banks like Kuveyt Turk provide online services.
Fun Costs
For entertainment and recreation, prices are pretty reasonable across Turkey. Movie tickets cost around $5. Buy tickets to theaters like Paribu Cineverse online.
An hour of tennis court rental is about $25. Gym memberships range from $30-$75 monthly depending on amenities.
And going out for dinner for two at a mid-range restaurant averages $30. So fun activities, eating out, and vacations within Turkey offer good value.
Cost of Living Considerations
Overall, Turkey provides an attractive cost of living, especially with the currently depressed Turkish Lira. But prices vary a lot between cities versus smaller towns and rural areas.
Inflation in Turkey may make costs increase over time. Political and economic issues impact prices and stability. But Turkey remains affordable compared to Western Europe and the United States.
Carefully researching prices based on location within Turkey is key to find the best budget options before moving. But the country can support comfortable lifestyles even on modest incomes.
The Average Cost of Living in Turkey – Around $1,320 Per Month
After analyzing common expenses in Turkey, the average cost of living for a family of four is approximately $1,320 per month. This includes estimated costs for:
Housing – $700 per month for a 2-bedroom apartment
Groceries – $300 per month for food essentials
Dining Out – $100 per month eating at local restaurants
Transportation – $50 per month for metro passes and taxi rides
Utilities – $60 per month for electricity, internet, etc.
Entertainment – $50 per month for movies, gym, and other activities
Miscellaneous – $60 per month for clothing, hygiene, healthcare
Of course, totals can vary across different Turkish cities and lifestyles. Costs may be higher in Istanbul versus secondary cities like Izmir. But this gives a realistic idea of average expenses for individuals in Turkey.
Sharing housing with roommates or choosing cheaper neighborhoods reduces rental costs substantially. Transportation and dining options offer savings for budget-minded residents. Overall, Turkey provides an attractive standard of living, especially considering current exchange rates.